ANSI Standard Request Form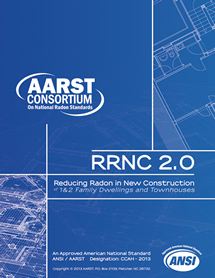 On January 11, 2013, the American National Standards Institute (ANSI) adopted a new building standard, RRNC 2.0, Reducing Radon in New Construction of 1 & 2 Family Dwellings and Townhouses. RRNC 2.0, a "Model Code" standard for the installation and testing of new construction radon systems, is a consensus standard developed by an American Association of Radon Scientists and Technologists (AARST) Consortium committee of radon professionals, builders, architects, consumer advocates, and state and federal government officials.
The purpose of this new AARST/ANSI standard is to further radon risk reduction in the United States by providing a model building code to achieve indoor radon concentrations of less than 4 pCi/L [148 Bq/m3] in new homes. It is a "code ready" standard that provides a significant improvement over the IRC Appendix F "Radon Control Methods."
To receive a free PDF version of the new RRNC 2.0 standard, please complete the form below. Your copy will be emailed to you within 2 weeks.