Radon in the Home
Radon is an invisible, odorless gas that is a natural radioactive decay product of uranium, a common element in soil and rocks. Radon gas is considered harmless when dispersed in outdoor air but can be a serious health hazard when trapped in buildings.
How Radon Enters Your Home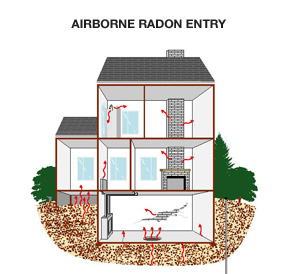 Radon gas can seep into a home from the soil through dirt crawlspaces, cracks in the foundation and walls, floor drains, pipes and sump pumps. Radon can enter any home, old or new, even those with no visible cracks. Each building is unique, and the ground beneath it is also unique. Two houses side-by-side can have totally different radon levels. The only way to know what the radon levels are inside your home is to measure them.
The U.S. Environmental Protection Agency publishes Radon Zone Maps to diagram the radon status of counties throughout the United States. Keep in mind that a Zone 1 rating (high potential) is not indicative of a radon problem, and a Zone 3 rating (low potential) does not guarantee that their home is free of radon.
Radon also can enter a home through the well water. If your water contains high levels of radon, the radon gas escapes into the household air when the water is running. The EPA says, "The radon in your water supply poses an inhalation risk and an ingestion risk. Research has shown that your risk of lung cancer from breathing radon in air is much larger than your risk of stomach cancer from swallowing water with radon in it."