How to Order
Step 1: You Must Be a RadonAway Customer and Obtain an Online Account Login
In order to use RadonAway's Online Customer Portal including the e-commerce features, you must be an approved RadonAway customer. RadonAway is a B2B business and ONLY sells to professionals.
Step 2: Enter Order Online Through Shopping Cart
The e-commerce portion of the Customer Portal works basically like any other e-commerce store that you order product from. Browse our catalog and add products to the shopping cart that you would like to purchase. In the shopping cart, you will have the ability to update your quantities, choose a shipping option and submit your order using your account's primary payment terms. You will receive an email notification that summarizes your order after you complete the checkout process. NOTE: This is not yet a finalized invoice as Customer Service will review your order and apply shipping charges before the invoice is finalized. NOTE: If you do NOT receive an email confirmation within 10 minutes after placing your order, please check your spam filters and call us to ensure that your order went through our system.
Step 3: Customer Service Reviews Your Order
The Shopping Cart in the Customer Portal provides you with the ability to submit your orders online 24/7, but your order must be reviewed and finalized by a Customer Service representative before the order processing is completed. Our customer service representatives will review each order, make any updates required and add appropriate shipping charges to the order.
We will use our best efforts to process and ship all orders placed through our website by 3:00 PM Eastern Time. Orders entered after 3:00 PM Eastern Time will be reviewed and processed on the morning of the next business day by our Customer Service department. Non-stocked products and large orders will require additional time before shipment.
Typically, online orders that are submitted during regular business hours before 3:00 PM Eastern Time will be processed within 2-3 hours of their submission time. You can login to the Customer Portal 2-3 hours later to see your finalized invoice.
If you have any questions on the processing time of any order or if you are close to the "cut-off" time for same day processing, call our Customer Service department at 800.767.3703 and we will do everything we can to assist you.
Step 4: Finalized Invoice Posted to Customer Portal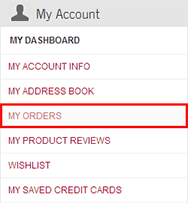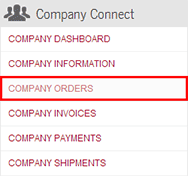 Once your order has been processed, a finalized invoice will be posted to the Account Portal so that you may view, download or print at your convenience. To access your invoice history, click on the Account link in the navigation at the top of the web page, near the search box. From the My Account drop-down menu, select My Orders to view all orders from your login. To view all orders for your company (all logins), from the Company Connect drop-down menu, select Company Orders. NOTE: ALL of your RadonAway invoices will be available through the Account Portal - both those you enter online and those that you call in over the phone.
Frequently Asked Questions (F.A.Q.)
Question: Can I view my old orders online?
Answer: Yes, all of your orders are available online. You can view orders for your company or you can view orders specific to your login account. Whether you entered them through the website or called them into our office, all of your orders will be available through this account portal.
Question: How are shipping charges added to my orders and why don't I see shipping charges when I submit my orders online?
Answer: Our online ordering system does not currently provide real-time shipping quotes. Therefore, you must submit your order online with the understanding that we will be adding shipping charges to your orders following the same policies followed when orders are called into our office. Shipping charges will be added to your order when Customer Service is reviewing and processing your order. After your order has been processed, an updated invoice including shipping charges will be available through the customer portal. So, if you log in to the Customer Portal and go to the Orders section, you will be able to view updated invoices that include your shipping charges.
Question: Can I track my shipments online?
Answer: Yes, but with some limitations. If your order is shipped from our Ward Hill location, your UPS shipment tracking number will be posted back to the Customer Portal. If you go into the Orders section of the website, you will see a UPS logo next to each order where shipment tracking information is available. Clicking on the UPS logo will bring you to the UPS shipment tracking status for that order. We are unable to provide online shipment tracking for shipments that come out of our other fulfillment centers through this Customer Portal, but we are working on bringing this service to you.
Question: Can I change my shipping address for a specific order?
Answer: Yes. In your Shopping Cart, you will see your Bill To: and Ship To: addresses displayed above the itemization of products in your order. Under Ship To: there is a link for Change Shipping Address. Click on this link and you should get a pop-up window that allows you to select a stored shipping address or add a new one. Select the address you want this order shipped to and then proceed through the Checkout process.
Question: How do I change the email address that I use to login to the Customer Portal?
Answer: It is VERY IMPORTANT that we keep your email address up-to-date in our Customer Portal. If you are changing your email address, you must contact us and let us know. We will create a new website login that uses your new email address. All of your company information, order history, etc. will still be available with your new login credentials.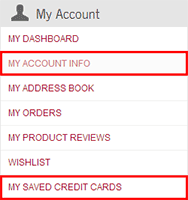 Question: Can I change my password for this website?
Answer: Yes. Once you have logged into the website, and accessing the account portal, select My Account Info from the My Account drop-down menu. From the following page, check off "Change Password" and fill in the fields for the current and new passwords.
Question: Can I save my credit card online so that I do not have to enter it every time I place an order?
Answer: Yes. You can save your credit card during checkout by checking the "Save Cedit Card" checkbox while entering credit card information. You will then be able to view all of your saved cards from the Account portal by clicking on My Saved Credit Cards from the My Account drop-down menu.
Question: What is the difference between "Company Connect" and "My Account" in the Account portal?
Answer: The functions for each section is listed below:

Company Connect

The pages within this section of the Account portal provide information on the company your account is associated with. You are able to see orders, invoices, payments and shipments from all users on RadonAway.com that are associated with your company.

My Account

The My Account section will display information related specifically to your account. This includes your orders, saved addresses, saved credit cards, product reviews, wishlists, etc.
Canada Fulfillment

This icon is on the product detail page for the products that we are currently stocking in our Toronto, Canada fulfillment center. You can browse these products under the Canada Fulfillment category online.
Taxes on Orders Shipped to Canada.
We do charge applicable GST, HST and PST taxes on orders shipped to Canada. If you are entering your orders online through radonaway.com, the shopping cart will not display these taxes during the checkout process. Our customer service department will add these taxes to your order during the order verification process. Finalized invoices can be viewed under the Orders (link) section of this website.
Shipping
Orders received by 3 PM Eastern Time are usually shipped on the next business day from our Canada fulfillment center in Toronto. There are NO special handling fees for Canada fulfillment orders at this time.
RMA's from Canada
Canada customers MUST CALL FIRST about any RMA. In most cases, we will just ask for them to send us the label and cover rather than the entire product.
Customer Request to Stock Additional Product in Canada
If a customer is interested in having us stock an item in Canada, please let them know that we are more than willing to do this, but need to know that they will be purchasing the product on a regular basis. In a situation where a customer is requesting we start stocking a product in Canada, please get the following information and email it to Sales and Dave Naggar:
Customer's Name and contact information
Product(s) that they would like to have us stock in Canada
In their estimation, how frequently they will purchase specified product and in what quantity.