Radon Training
For Certification and Continuing Education Credits
Supported by RadonAway® and AccuStar® Labs, Spruce Radon Training provides classroom and web-based radon training courses for certification and continuing education. We provide measurement and mitigation training programs for those looking to further their careers as radon professionals as well as those who are new to the field. To view all of our current courses go to the Spruce Training Course Catalog.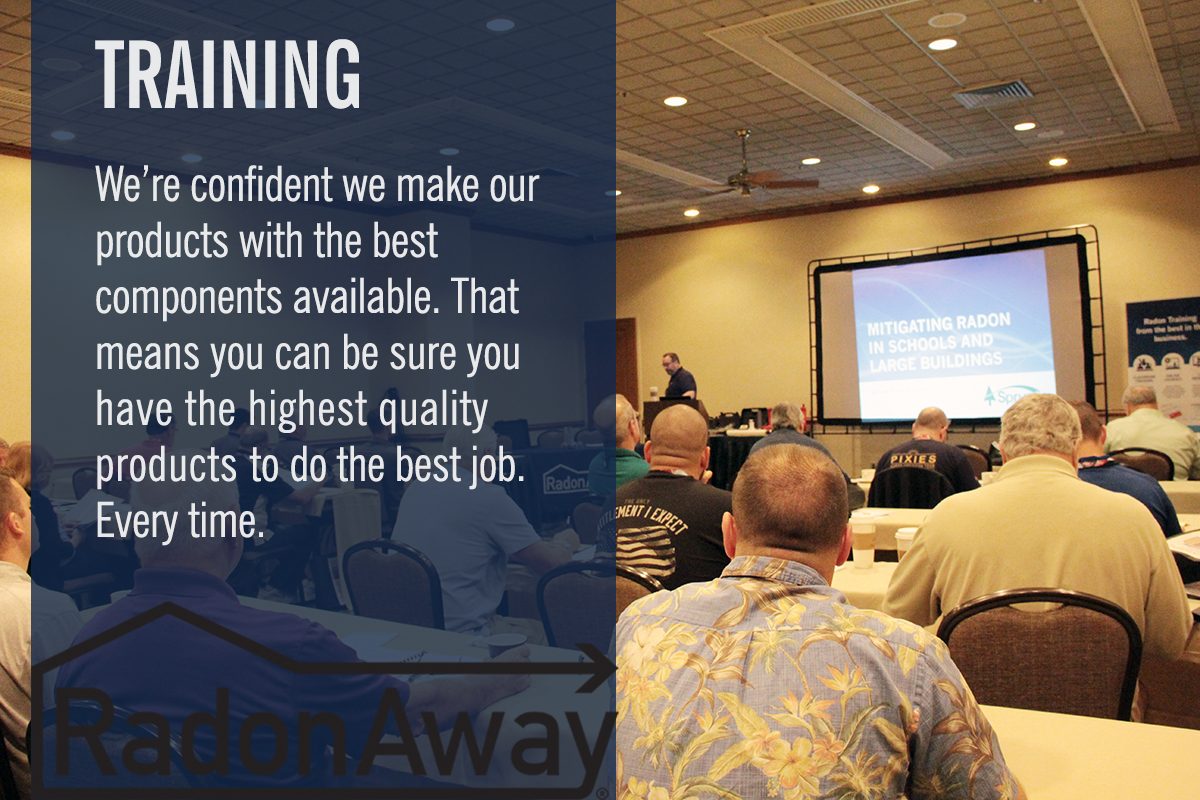 Spruce's training program offers several options to choose from:
Classroom
Online
Live Webinar
Each year, several courses are updated or added to the curriculum to ensure future radon mitigation professionals are up-to-date with the latest industry developments.
Radon Measurement and Mitigation Classroom & Live Webinar Certification Courses – Available on a Regularly Scheduled Basis or By Request
We offer several radon measurement and mitigation classroom and live webinar courses which are available on a regular basis or by request. Learn how to properly measure radon in our Radon Measurement course, which you can take for certification, continuing education, or as a prerequisite to enrolling in our Radon Mitigation certification preparation course. Sign up for our Entry-Level Radon Measurement and Radon Mitigation courses as well as our Multifamily Measurement class, where you'll gain a better understanding about radon testing in multifamily buildings. Since the 2013 HUD policy has changed, it's crucial to prepare for the new AARST-NRPP add-on certificate as well as fulfill the Multifamily Standard and HUD requirements.
Both radon testers and mitigators should also learn about the RRNC 2.0 Standard through our classroom or webinar course, which prepares the professional for the AARST-NRPP RRNC Advanced Certificate. The RRNC 2.0 Standard has been adopted in more and more locations. If you're in an area with potential radon in well water, we provide classes on how to test for and reduce radon in water. This course is required for radon in water mitigation in Maine.
Radon Measurement and Mitigation Classroom & Live Webinar Continuing Education Courses – Available by Request
From our more than 15 radon measurement and mitigation classes geared toward radon professionals' continuing education and recertification, students will gain further insight into the inspection of radon mitigation systems, delve deeper into mitigation theory, and learn which tools work best to when testing for radon. We highly encourage students to enroll in our Measurement Refresher course which refreshes and updates radon testers' and mitigators' measurement knowledge by walking them through the radon screening process. This course provides students with methods on how to remedy situations that occur during radon measurement.
We also teach mitigators how to properly select the correct radon fan once the radon testing and diagnostics are complete, testers and mitigators how to follow radon measurement and mitigation radon requirements in large buildings, and offer a one-day course in measurement for the technician. Our radon trainers will teach students to properly place and retrieve radon devices and how to convey to homeowners and others the negative health effects brought on by radon.
These courses provide students with the proper information on how to successfully handle various situations that may occur during radon measurement and mitigation.
Radon Measurement and Mitigation Online Courses
Along with professional in-class radon measurement and mitigation courses, RadonAway offers a series of online courses which can be taken at the student's convenience. Testers and mitigators will learn how to diagnose challenging radon mitigation scenarios as well as gain insight into the radon industry from a pioneer in radon in water mitigation, Dave Hill.
In our online courses, Spruce co-founder Dave Kapturowski teaches students about advanced mitigation techniques in our Dave's Corner video. Students will also learn about marketing radon to Realtors, along with environmental hazards that occur in the home. Not only will you gain deeper insight into how radon affects health and the home environment, but through our Science of the Atom: Radiation, Radioactivity and Radon class, you'll learn or refresh your knowledge about the science behind ionizing radiation, biological effects and measurement techniques.
A written contract is crucial when it comes to radon mitigation to ensure there is contractual transfer of risk and insurance. Students will learn the difference between warranties and guarantees along with how/when insurance should be utilized. Our Writing the Contract and Guarantee video is ideal for those who already have, or are considering starting, a radon business.
While many of our online training courses discuss radon effects and radon measurement and mitigation, we offer our expert knowledge on several other topics:
How to effectively spread the message about radon
How to create QA-QC documents
Debunking common radon myths
Strengthening current business practices
Reviewing radon case studies
Understanding the responsibility of radon contractors
If you're ready to become a radon contractor or are a certified radon professional seeking continuing education or advanced certification, contact RadonAway today. You can sign up for one of our online courses or join a classroom or live webinar course at http://spruce.com/radon-training to become certified in radon measurement, radon mitigation, or both.
Video Courses
See our Video Library to view a sampling of our online video courses for free, or choose to take them for CE credits by emailing training@spruce.com.